Boneless, skinless chicken breasts – especially when BBQed – can quickly turn to sawdust quicker than you can say Sahara. But a quick and easy brining technique before cooking will be an insurance policy to having moist boobies everytime…so long as you stick to strict cooking times and temps.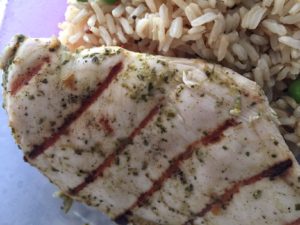 Chicken breasts
4 cups water warmed in the microwave
1/4 cup kosher salt
1 teaspoon brown sugar
Lemon peel/zest (optional)
Combine all elements in a glass or Tupperware dish to dissolve the dry goods. Soak the chicken breasts for 30 minutes. Rinse and pat dry with paper towels.
Now choose your spice and prep for queing.
CAJUN
Sprinkle with garlic salt and Old Bay seasoning.
(For a wet option try a dash of Frank's red hot sauce.)
MEXICAN
Equal(ish) parts:
Cayenne pepper
Garlic salt
Dried oregano
Cumin
Pepper
(For a wetter style take, mix in some tomatillo salsa or a couple finely diced wet chipotles
JAMAICAN/JERK
Make your own dry jerk rub combining the following ingredients at about equal parts:
Garlic powder
Brown sugar
Thyme
Pepper
Cayenne pepper
Smokey paprika
Allspice pinch
OR
Simply buy a jar of jerk sauce and cover the breasts in the marinade for a good hour before cooking.
INDIAN
Yellow curry powder
Ginger
Garlic powder
Paprika
Coriander
Cayenne powder
Grill over direct medium heat for 5 minutes per side.