While this may not be the most authentic Cuban chicken and rice recipe, the zesty essence of fresh limes in every bite is sure to whisk you to the island. (A Cuba Libre as cooking courage doesn't hurt either!) Simply combine all the elements in the bean mélange, pour over diced chicken breasts and bake. It's really that easy.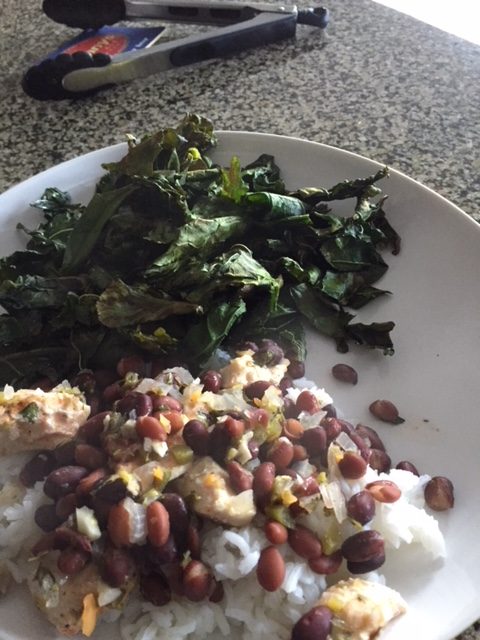 Ingredients
2 cans black beans, drained
2 limes, zested and juiced
1-2 cloves garlic, smashed
½ to 1 white onion, chopped
1 nub of fresh ginger, grated (or 1 t ginger powder)
1 jalapeno, roasted quickly over a gas grill until blistering, chopped
Handful of cilantro, chopped
1 t ground cumin
Dash of Tabasco
Several grinds of pepper
2 chicken breasts, cut into fork-sized pieces
1 C white rice
Scallions and cilantro, chopped for topping (optional)
To Cook
Place onions and garlic into a lightly oiled pan and sauté until just softening, about 3 minutes. Mix all ingredients except the chicken together in a bowl and let sit a good half hour to let the flavors hit the dancefloor.
Cut the chicken and place in a ceramic baking pan sprayed with any non-stick product. Sprinkle some seasoning on the chicken like garlic salt, pepper and smoked paprika.
Spoon the bean mixture over the chicken bites. Cover with foil. Bake at 350 degrees for 30-40 minutes until chicken is tender but not overcooked.
Mid-way through the cooking, start the rice and simmer, covered for 20 minutes. You definitely don't want the rice overcooked, but soft and fluffy to soak up all the flavors.
Serve the chicken mixture over the rice with your choice of hot sauces – Tabasco or Tapatio work best for me. Welcome to Cuba. Sautéed greens like kale, collards or spinach makes a nice side.