This Asian stir fry is a little bit Chinese and a lot Vietnamese. Bold Far East flavors featuring fish sauce, yuzu soy sauce and plenty of frsh lime makes this a dish that tastes even better the next day when the flavors come together.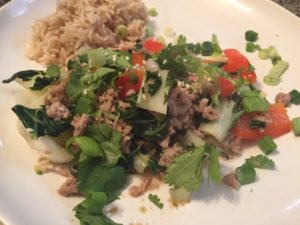 Main Ingredients
1 lb ground Turkey or chicken
Vegetables to chop (choose 2 or 3):
Baby bok choy
Bell pepper
Green cabbage
Broccoli
Snap peas
Green beans, etc
Marinade
In a sealable jar mix together…
2T brown sugar
1/4 C low salt soy or yuzu soy
Dash of fish sauce
Juice of 1/2 lime
Dash of ground ginger or galangal
Squirt of honey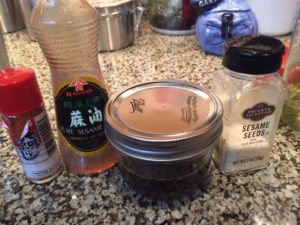 Stir fry dry mixture
2 garlic cloves, finely chopped
1 shallot, chopped
2 t ground lemongrass (or powder if you don't have fresh)
For topping
Cilantro, roughly chopped
1 green scallion, chopped
Fresh basil, chopped
Bring olive and sesame oil reasonably high heat  in a wok or cast iron skillet (avoid no. Stick pans for this)
Dump in veges, reduce heat to medium and cook until slightly wilted and softened.
Add dry mixture at early point of the process.
When al dente, remove veges to a plate.
Add a little more oil to the pan.
Add ground Turkey, stirring frequently, until mostly browned.
Add wet mixture.
Keep stirring to break up meat and just as pink fades, add the veges back.
Mix all together, blending flavors.
Serve over brown rice. Top with cilantro, basil and scallions, with a dash of sesame seeds.
Keep sambal chili paste nearby and maybe an extra squeeze of lime if you want a little more acid.