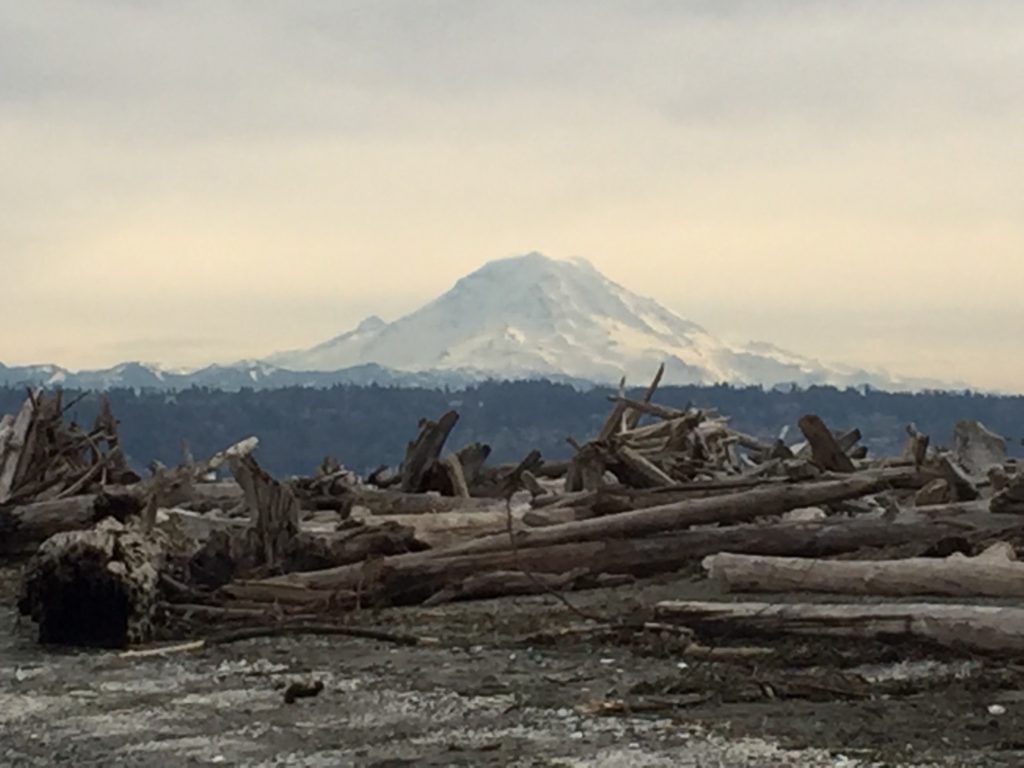 An island is a mythical, almost other-worldly chunk of land.
Formed from volcanic dew drops, these seemingly floating plates exist to sweep us away from the hustle of the big-city grind. On the West Coast, several cities have maybe one island they call their own. Los Angeles has Catalina where gum magnet William Wrigley famously imported bison and had his Cubs train during the summer. And San Francisco has, well, Alcatraz.
However, Washington is the only state to boast more than 40 different archipelagos all within a short, but sexy ferry ride from the mainland.
Vashon-Maury Island off the coast of central Puget Sound is a spectacularly unique oasis; a pseudo Martha's Vineyard 2500 miles on the opposite side of the continent that features stunning vistas, gourmet food and locally produced adult beverages that makes it one of the best weekend getaways at the gateway of the Pacific Northwest. For lucky Seattleites, Vashon is a lot closer than one might think.
The most convenient ferry terminal is located in the Fauntleroy village of West Seattle. It will almost certainly take longer waiting in the car boarding line than it will to sail the Puget divide. Once aboard, the ferry docks at the northern tip of Vashon 20 minutes later and cars are downloaded to Vashon Highway, basically the I-5 of this 37 square mile paradise which locals proudly brag as being the exact size of Manhattan.
Founded and named in 1792 after British Royal Navy admiral James Vashon, one of George Vancouver's closest explorer friends, the island embraces a heritage of quirky history and relaxation.
Driving away from the ferry terminal into the quaint downtown, one immediately gets a sense that Seattle and work strife are a continent away. Antique shops, art galleries, fun and funky restaurants and even an old school movie theater straight out of Back to the Future line this whimsical route.
For lunch, stop at the indoor/outdoor Mexican haunt called Zamorana (https://www.zomato.com/vashon-island-wa/zamorana-vashon). While tempted to order everything from the cochinta pibil to the carnitas torta, go straight to the fish tacos. Perfectly grilled red snapper slabs layered on corn tortillas with chipotle aioli and shredded cabbage with a plucky pico de gallo sauce is as authentic as Mexican fare gets. Having lived in Los Angeles for many years where Baja-inspired fish tacos are the stuff of legend, Zamorana's fishy treats are the best I've ever had.
Just down the street is a Herculean grocery store called Thriftway that's unlike anything on the mainland and an absolute carnival of foodie fun. Nothing compares to the generous selection of fresh fish and produce anywhere else in Western Washington. Consider a good ten native apple varieties and almost as many selections of tomatoes, potatoes and leafy greens, and you can see why so many of the local restaurants flourish with home grown goodness. Time now to grab some deli sandwiches and pack a picnic for the more adventurous part of the trip.
Grab a coffee at the famous Vashon Island Coffee Roasterie, which beyond its charming, old school creaking wooden floor boards was one of the original homes to Seattle's Best Coffee, before the franchise sold its soul to Starbucks.
Driving further down Vashon Highway, stop at the iconic "Bicycle in the Tree," just a five-minute walk off the main highway. Legend claims that a child ditched his bike in this dense forest in 1954 and, through time, a tree grew around it and uplifted the cycle to its current height of ten feet. Vagrants have sadly since plundered the exposed parts of the bike, but there still remains remnants of the bike's body, and its story is forever told by Bloom County comic and one-time Vashon resident Berkeley Breathed in his children's book called Red Ranger Came Calling.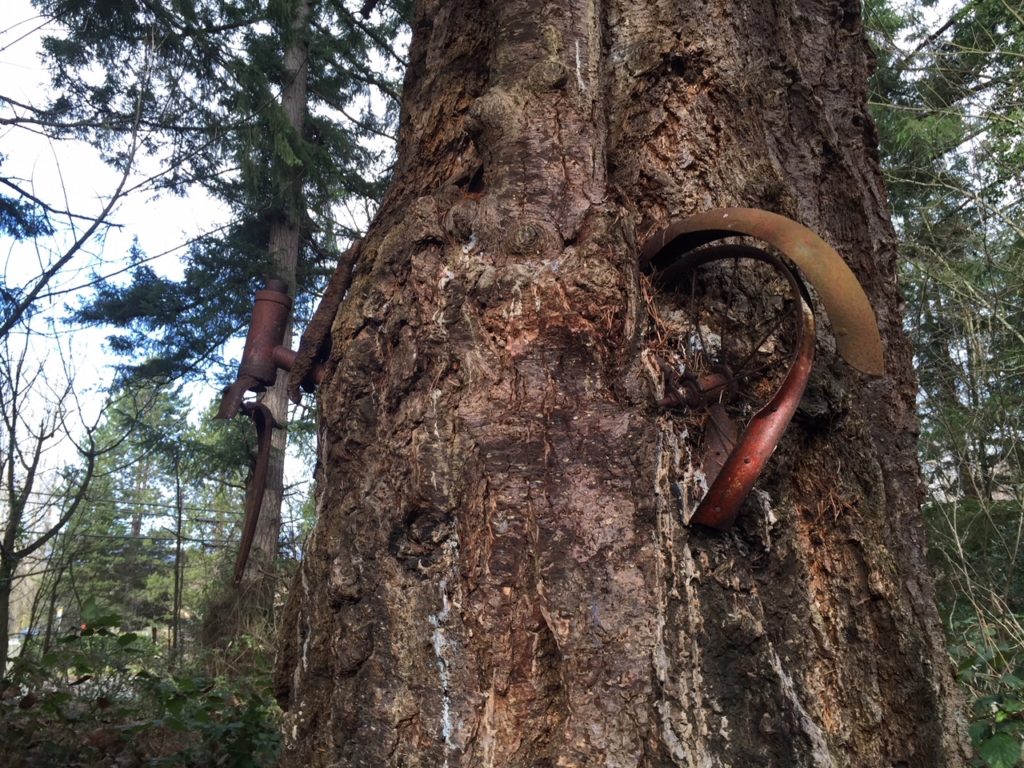 Back on the road, bust a left at SW 204th Street and then merge onto George Edwards Road to hug the Sound's gorgeous coast and cross into adjoining Maury Island. Follow the signs to the Point Robinson lighthouse (www.vashonparks.org). Enjoy a mystical ten-minute walk from the parking lot through the pillowy forest where spindly ferns and emerald, moss-blanketed trees lead to the stunning shoreline.
The picaresque lighthouse is only open for tours on Sundays from May through September, but just sitting at its base and looking across the Sound to Des Moines with Mount Rainer flashing her pearly whites on a perfect day is reason enough to enjoy that picnic packed from Thriftway.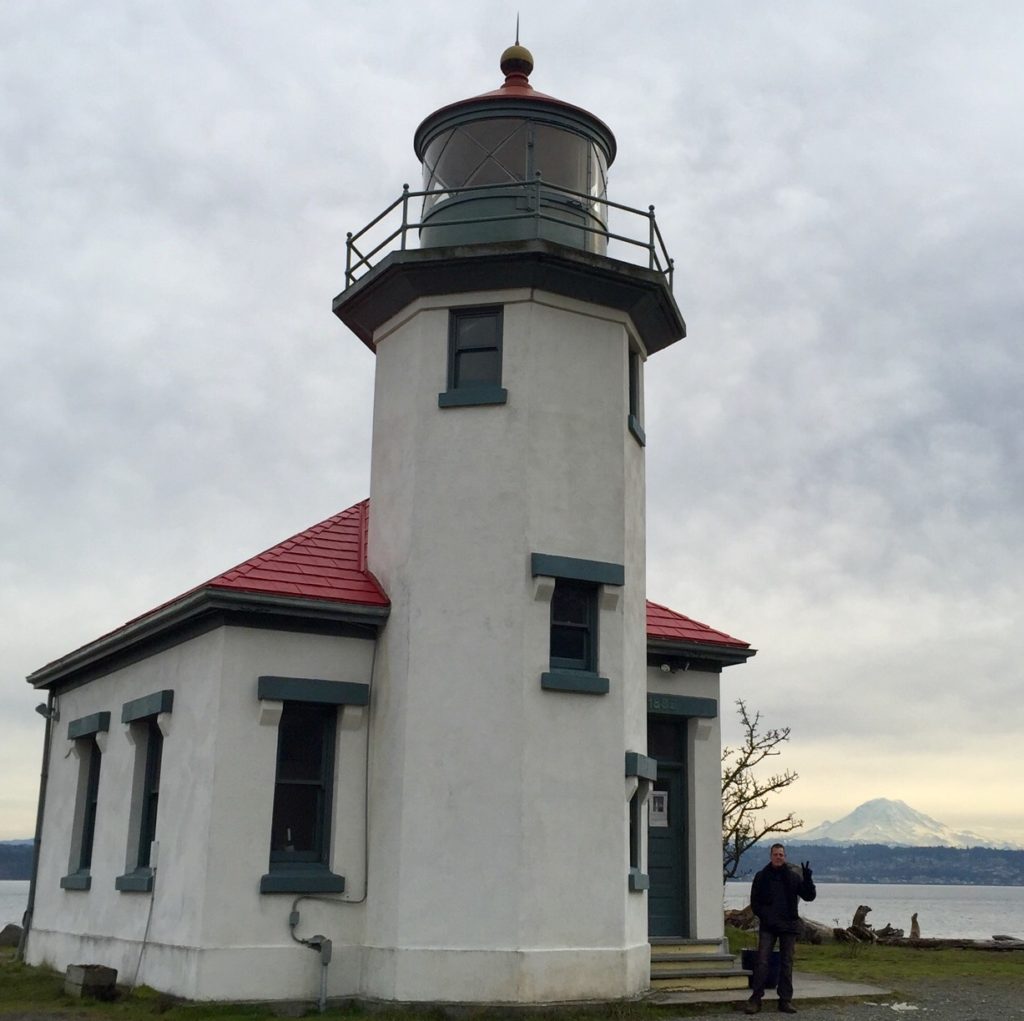 As darkness descends, now might be a good time (with a designated driver) for a tasting at the Seattle Distilling Company. Like many establishments on the island, locality is key, and all of their vodka, gin and whisky based spirits are locally sourced. Most unique is their coffee liqueur that boggles the tongue with notes of sweet brown sugar, smoky tobacco and bitter chocolate. Don't want alcohol? Then try the Orca Blend at Vashon's Coffee Roasterie which provides this booze's bean base.
If staying overnight, there are a plethora of small hotels to choose along the main Vashon Highway strip. One of the best is the Burton Inn about eight minutes from the main town nestled in a cozy neighborhood with a beautiful inlet water view. The Burton has a boutique, quirky charm emblematic of the island with decent off-season prices ($160 per night) and, of all things, a "pillow library" where guests can select from several different head cushions based on firmness or fluff.
But, before the head hits that chosen pillow, do not miss not only the best burger on the island, but maybe the best bite in Washington.
The place is called Gravy (www.gravyvashon.com) and is run by Dre and Pepa Brower, an adventurous, epicurious couple with a passion for creating American food served with a subtle Southern twist. The seasonally served arctic char with green lentil ragu, escarole and green olive aioli is a taste of beauty, but the signature dish was something from a different planet. It's dubbed the Trifecta Burger and is made with wagyu beef, dandelion greens and a shmear of parsley-shallot sauce that really could inspire vegetarians to reconsider their sacred vows.
No…seriously.
Now, back to the pillow library for some well-deserved dreaming. The big city truly sleeps tonight.
Keyword tags for SEO:
Seattle Times, Vashon Island, Maury Island, Pacific Northwest travel, weekend getaways, Seattle tourism, Bicycle in the tree, Point Robinson lighthouse, Zamorana, Seattle Distilling, Gravy, Burton Inn.