Take a trip to a tropical island with this citrus-infused fish dish that combines equal parts sweet and sour and pairs perfectly with a new twist on cauliflower. Since we already have the BBQ flamed up, let's grill some cauliflower steaks to go with the Caribbean kabobs. It's easier and tastier than one might think. Then push the kabob elements onto a bed of Cous Cous (or jasmine rice) to soak up the Hawaiian flavor. Leis optional.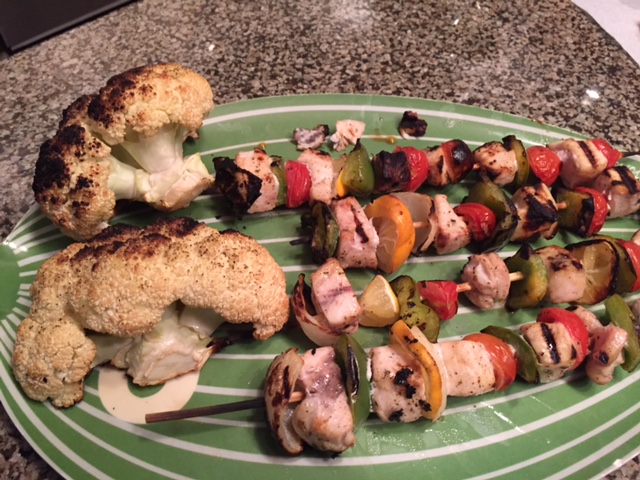 The Bath
3 glugs olive oil (preferably orange or lemon infused)
2 glugs white balsamic vinegar
2 T garlic salt
2 t oregano
Juice of 1 lemon (save the rind)
Few grinds of pepper
The Goodies
2 swordfish steaks, cut into 1-inch cubes
½ onion, cut into small crescents
1 zucchini, cut into cubes
Cherry toms, halved
1 bell pepper, cut into small squares
1 head cauliflower, halved evenly with spine intact to keep each half from falling apart
 1 C Cous Cous (preferably pearl)
1 ½ C water
 Soak 4 wooden skewers in a large jar or Tupperware for a good hour.
Cut all the kabob elements into uniform cubes or squares so that everything will cook evenly. Place into a large mixing bowl.
Whisk together all the marinade ingredients and pour over the fish and veges, stirring to coat evenly. Let stand at room temp for at least a couple hours. Give it a stir every half hour to keep the coating constant on all sides.
Remove the bottom of the cauliflower spine and cut vertically to create two like-sized "steaks". (It's best to buy the smallest head you can find.) Brush with olive oil and a little salt and pepper.
Thread the kabob goodies onto the soaked skewers randomly mixing a piece of fish, followed by a slice off bell and then a tom and so on to create flavor diversity. It's fun to mix in a lemon wedge here and there to provide a further burst of tart goodness as they cook.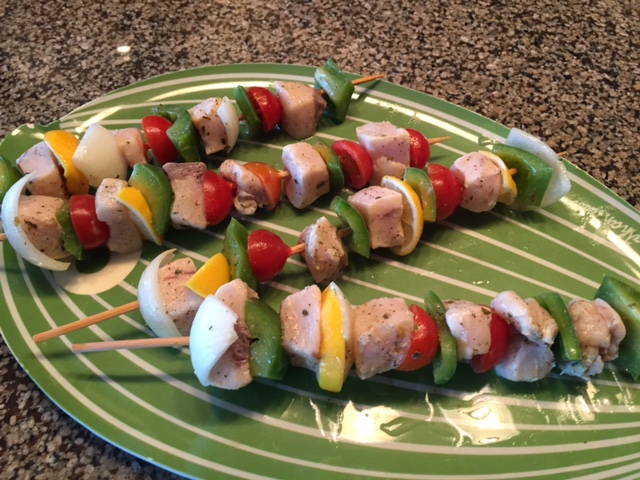 Spray and fire the grill to medium-high heat and when ready, place the cauliflower dense-side down on direct heat. Let char for 10 minutes, then flip and move to indirect heat.
Now's a good time to boil the water and dump in the pearl Cous Cous. Cover, simmer about 10 minutes.
Place the kabobs onto the direct heat. Cook for five minutes, then flip and cook for another five. At this point the fish should appear opaque and the veggies should have a minor char. If not, let it go.
Total cook time should be:
Kabobs 10-12 minutes.
Cauliflower 20-ish minutes.
Cous Cous 10 minutes.
If you want add an extra flavor profile, finely chop a few green olives into the Cous after it has cooked. Then dollop the pearls onto a plate and pile with a kabob skewer to nestle with the cauliflower steaks. A bright and healthy way to visit a tropical island without going through TSA.