Take a trip to a tropical island with this citrus-infused fish dish that combines equal parts sweet and sour. The key is placing all like items on the same skewer. So swordfish chunk go on one skewer, shrimp on another and then similar veges on one of their own (i.e. bell peppers, zucchini, cherry tomatoes and onions).
Top with a refreshing mango salsa.
When complete, push the kabob elements onto a cutting board and dump over a bed of jasmine rice and some sauteed black beans to soak up the Hawaiian flavor. Leis optional.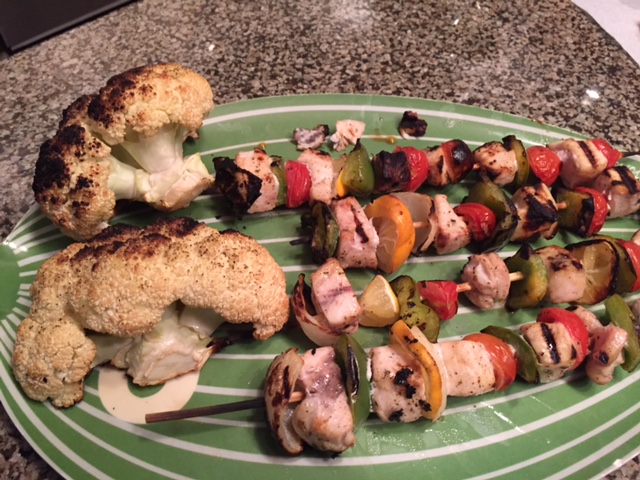 Mango Salsa
Half a bag of frozen mango chunks, thawed and finely diced
1 habanero or serrano pepper, finely diced
2 scallions (reserve a bit for topping)
1 tomato, diced
1 avocado, diced
Juice of 1 lime (zest and save for topping)
1/2 orange juice and zest
cilantro, basil, mint, chopped
garlic salt & pepper
Mix all these elements in a bowl and fridge for a good hour.
The Kabob Marinade
Several glugs olive oil 
Lemon juice
Dash of soy sauce
Garlic powder
Mustard powder
Allspice
Paprika
Parsley, chopped
Jerk seasoning
Cumin
Oregano
Few grinds of pepper
The Goodies
2 swordfish steaks, cut into 1-inch cubes
8 shrimp
½ onion, cut into small crescents
1 zucchini, cut into cubes
Cherry toms, whole
2 bell peppers, cut into small squares
If using wood skewers, soak in a tall cup or Tupperware for a good hour.
Cut the vege kabob elements into uniform cubes or squares so that everything will cook evenly. Place into a large mixing bowl.
Whisk together all the marinade ingredients and pour over the veges, stirring to coat evenly. Slide onto the skewers separated by similar types. So all bells on one skewer. Toms on another, etc.
Repeat the same marination process with the fish and shrimp.
Let stand at room temp for a good hour.
Prep the black beans.
Dice a handful of onions and bell pepper and put into a pot. When ready to cook, lightly brown the veges in the pot, then add a can of black beans. Cook until hot.
Now's also a good time to get the rice going as jasmine will take about 30 minutes when simmering.
Let's get grilling!
Spray and fire the grill to medium-high heat and when ready, place the bell and zuch skewers on direct heat for two minutes. Turn and move them away from direct heat. Toms will be the last to lay down, needing only a couple minutes per side.
Place swordfish skewers on direct heat for 4 minutes. Then turn for another 4.
Shrimp skewers should take about 2 minutes per side.
Keep an eye on the veges rods and turn when necessary.
When the fish is opaque and shows grill marks, pull. Same with the shrimp and veges.
Combine all elements on a plate. Top with lime zest and maybe a spritz of lime juice.
What a bright and healthy way to visit a tropical island without going through TSA.