Take a trip to the Far East without leaving your home with a perfect summer dish that has meaty protein, sweet, sour and veggies galore. This can be made as a straight-up salad or served over rice stick noodles.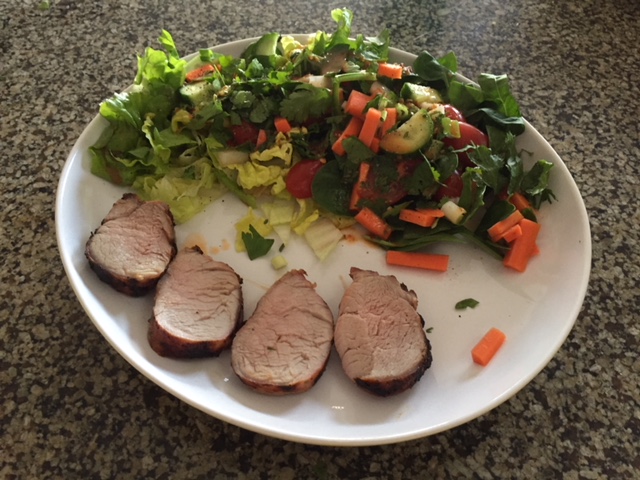 For the plate, combine the following in one corner:
Chopped red leaf lettuce
1 Persian cucumber, diced
Cherry tomatoes, halved
Pickled daikon and carrots (see below) or packaged golbi carrots from an Asian market, chopped
Thin rice noodles like Asian vermicelli (optional, if you're skipping carbs that night)
Cilantro, chopped
Mint and basil, chopped (optional)
Pickled Daikon and Carrots:
Chop veggies into matchsticks or mandolin even thinner and place in a sealable Tupperware
¼ C sugar
1 T salt
1C water
½ C rice wine vinegar
Combine all ingredients until dissolved and pour over veggies to cover
Seal and rest, preferably overnight
For the bowl dressing, combine the following stuff:
1 red Thai or Serrano chilies, finely chopped
A healthy glug of fish sauce
Juice of at least one lime
A dash of yuzu paste or sauce
Sprinkle of galangal powder
T sambal
For the pork:
Cut the tenderloin in half
Place in a bag with the following:
Lime juice
Ponzu/yuzu soy splash
Fish sauce, many splashes
T brown sugar
Garlic salt and pepper
Combine all marinade and pour over the loin. Let the bag sit in the fridge a good two hours (remove 20 minutes before cooking to bring to room temp.
If you're including noodles, make them now by dumping into a pot of boiling water for about four minutes, then draining and shocking with cold water. (You want them to be room temp or even cold when serving begins).
To cook the loin, there are two terrific options. I prefer BBQ for a smokier flavor and lack of pans to clean. But, if it's raining…
If stove:
Preheat oven to 400 degrees. Add olive oil to over-proof pan, heat over medium and add loin halves. Sear on all sides about 3 mins per with 3-4 turns. Then put skillet into oven at 400 degrees for 15 minutes, turning once.
If BBQ:
Place halves over direct medium-to-high heat. Cook 5 minutes a side turning at least 3 times, maybe 4 to assure all sides are cooked through.
No matter the method, inside temp should be no more than 140 degrees. Remove and let rest under a loose foil tent for 5 minutes after cooking and before cutting.
Now slice into medallions and serve beside the dressed ingredients already plated. Keep a side of Sambal handy and a cold glass of milk to wash away any oral flare ups from the sauce.