Chinese food gets a deservedly bad rap for being overly oily and full of starch. Here's a healthy alternative that uses non-carb, tofu noodles as the base to catch all the flavorful, saucy goodness with nothing but flash-fried shrimp and crispy veggies at the forefront.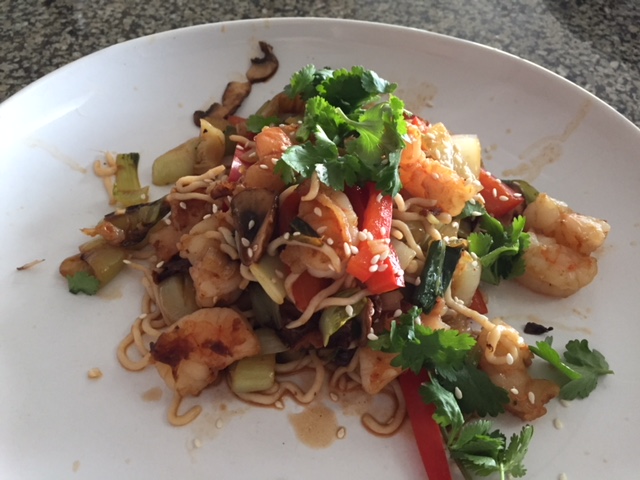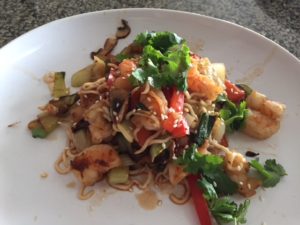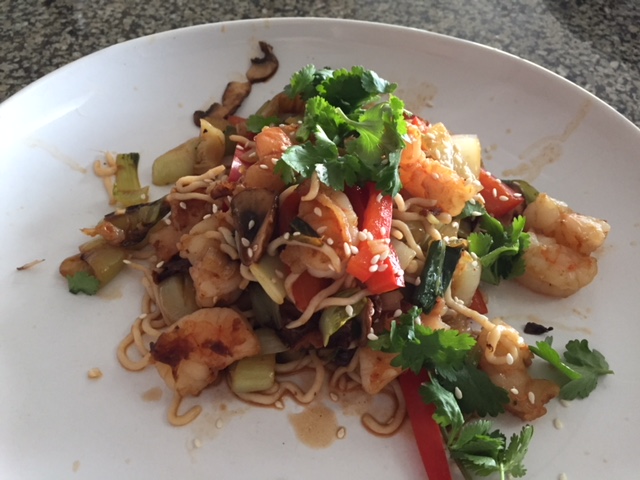 Ingredients
1 lb. peeled, deveined shrimp
1 package tofu noodles (found in most grocery stores or online and Asian markets for sure)
Handful shiitake (or brown) mushrooms, sliced
1 red bell pepper, slice
4 scallions, sliced
2 heads baby bok choy, chopped
Marinade
¼ C soy with yuzu sauce
1 lime, juiced
1T sugar
2t sriracha
2t freshly grated ginger (or powder)
Garlic salt or powder
2T sesame oil
Garnish
Sesame seeds
Fresh cilantro leaves
Whisk marinade together and set aside.
Cook tofu noodles according to package. Drain and set aside.
In a pan heat, heat 1T sesame oil and regular oil over medium heat until very warm. Add all veggies to pan and keep stirring until slightly softened, about 2-3 minutes. Now cover and cook another 2 minutes. Veggies should be slightly al dente but ready to eat at this point. Remove to a platter.
In the same pan, add the shrimp and cook 2 minutes per side.
Now re-add the veggies and stir to combine. Dump in the marinade and stir through. Lastly add the tofu noodles and keep stirring until flavors all come together.
Serve garnished with sesame seeds and cilantro. Keep sambal and yuzu hot sauce (see Trader Joe's) nearby for an extra punch of flavor on each bite.