We had an explosion of cilantro in the garden this year, and I have been searching for the best cilantro-heavy recipes on the planet. (I hope that there's never a homicide involving cilantro stems as my endless Google searches would make me a prime suspect!)
This Middle Eastern supper is full of herbaceous citrus flavor and is the perfectly cool, summer BBQ and fresh salad combo. The salad has a great sweet/spice combo thanks to the pairing of a serrano and chopped apple. Best of all, there are no oils or saturated fats used in the process.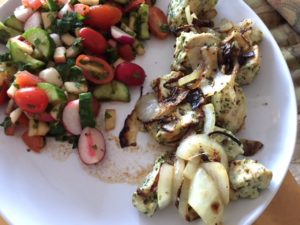 The Salad
Several radishes, chopped into fork-sized chunks
2 roma tomatoes, seeded and chopped
2 persian cucumbers, chopped
½ Gala apple, chopped fine
1 serrano, seeded and finely diced
1 C cilantro, lightly chopped
1 C fresh mint, chopped
1 T ground cumin
1 t paprika
1 t chili powder
Salt and pepper to taste
1-2 limes, juiced
Mix all ingredients together in a large bowl and let sit in fridge until about 15 minutes before serving.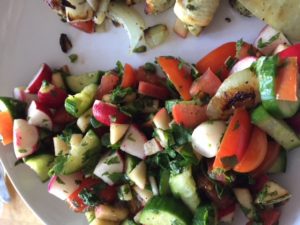 The Kabobs
2-3 boneless chicken breasts, cut into 1-inch squares for kabobs
Juice of 1 lemon
1 vedalia (sweet) onion, sliced into rings
1 T butter
Dash or two of zatar spice (if handy)
Place chicken chunks in a plastic bag and cover with lemon juice and garlic salt & pepper for about 15 minutes.
Kabob Marinade
While the chicken takes its citrus bath, make the marinade.
½ C plain yogurt
¼ C water
1 C cilantro leaves
½ C fresh mint
1 serrano pepper
1 inch piece of fresh ginger
1 garlic clove
Place all marinade ingredients into a small cuisinart and pulse until a light liquid forms (use water slowly and stop adding when consistency begins to run too thin). Pour the sauce into the chicken bag and refrigerate for 2 hours.
If using wood skewers, put a stopper in one drain of your sink and fill a quarter way with water. Place the skewers in the water and use a pan or colander to hold the skewers under water for a good half hour.
When chicken is ready, remove from fridge and slide the pieces onto each skewer, leaving just a bit of space between each piece for more even cooking.
Light the BBQ to medium-high. Spray the grill with a non-stick spray and set the kabobs down. Cook for 5 minutes.
In a pan, melt the butter and place the onions inside. Stir often to get a nice golden char on the onions. I like to add pepper and zatar spice to the pan to kick the flavor up a notch.
After 5 minutes, carefully lift each skewer using long tongs and gently turn so the other side of the chicken is now down on the grill. Cook another 5 minutes and try one piece. The chicken should no longer be pink and be moist but not dry. You don't want to overcook these tender chunks. Cook accordingly to your sense of doneness.
When complete, dish up the chicken chunks and top with plenty of the sauteed onions. Pack the salad on the other side of the plate. You can hit the salad with one more spritz of lime juice if you want even more citrus or simply serve. A wonderfully healthy summer night's repast.