There's something refreshing about the fact that LA – with its perceived clichés of spray-on tans and limitless salad bars – has gone Midwestern for its latest fad of hipster pubs and gourmet burger-and-bacon bars. And, unlike the Midwest, people eating greasy burgers actually DO look better with canned tans.
8oz Burger Bar on Melrose, an 8-ball's throw from Fairfax High, is yet another entry into the gastro pub machine where the decor is decidedly brick and ensconced 10-watt bulbs with the menu written in colored chalk on floor-to-ceiling blackboards.
As the name implies, the sig burger is an 8oz delicacy of sirloin, short rib and chuck, ground and wound together to make a decadently unctuous patty grilled to pink perfection and hosted on a warm sesame bun. Unlike Father's Office or the fussy cow patties that are starting to outnumber Starbucks on every corner in LA, 8oz eschews the novelties of rare cheeses and caramelized onions that render those other gourmet burgs flavorless under the weight of their pungent partners in grime.
Instead, 8oz thankfully plays it straight with basic condiments of shredded lettuce or arugula, a beefsteak tom, crispy pickles and their "special sauce" which is, in essence, Thousand Island. Ask for easy sauce if you order this traditional fare, as the kitchen is a little sloppy with the sauce.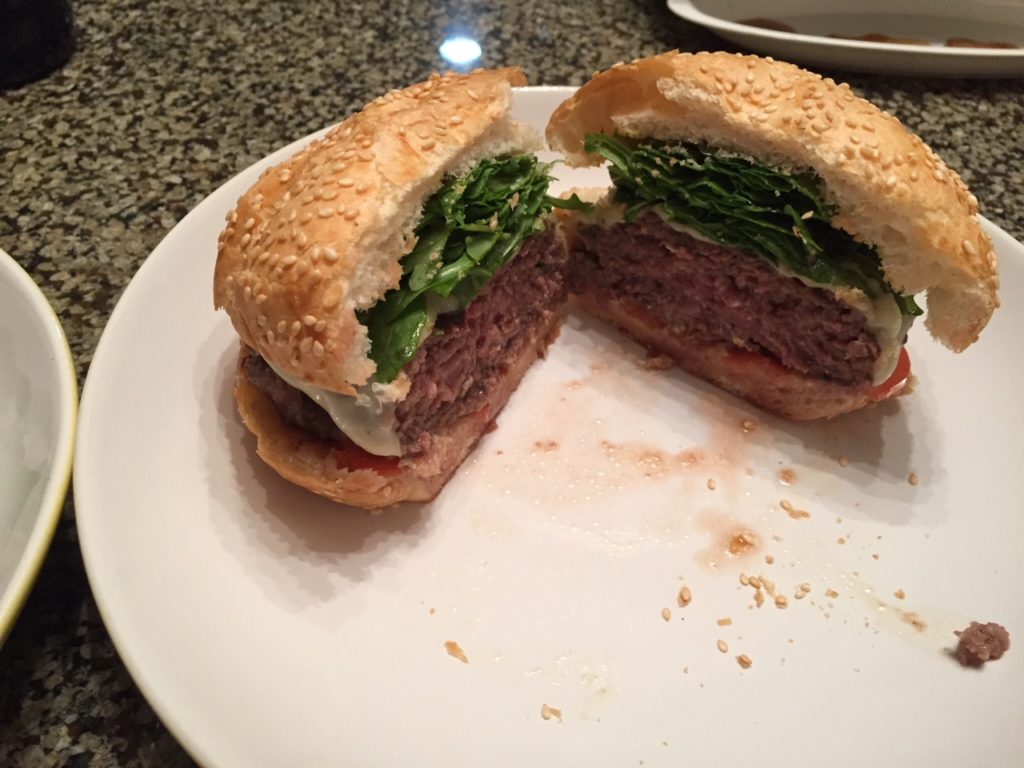 There are plenty of condiment combinations to choose from as well if you do feel like creating the avant garde affair. Seven different cheeses, sauces, and toppings from the bold (sunflower sprigs) to the beautiful (apple wood bacon) allow you to be the king of your meaty domain.
No matter what, the burger is the perfect straight man for one of the many ice cold beers the restaurant features. There are at least 20 beers on tap and a grip in the bottle. If you like pale lager a la Stella or Firestone, you must sample the Skyscraper Lug Nut Lager out of a microbrewery in El Monte, Cali that is a crisp, cold and refreshing way to rinse down every bite.
For those wanting something more than the basic burger, try the slider flight: Three 5oz burgers of varying meats – lamb, sirloin and boar…yeah, boar. Sadly, all flight burgers come with the same basic accoutrements described above which is a shame since the different meats demand different condiments. The lamb, in particular, is sweet and juicy and would fare far better with a more Mediterranean slather of tzatziki and cucumber with a trace of fresh mint.
The boar seems more a novelty, a slightly gamier version of the beef puck, whose flavor also succumbs to the omnipresent "special sauce."
All in all, a marvelous experience and, considering the locale, the price tag of $10 for the burger and $6 for a pint is more than reasonable considering the Melrose people-watching is still free