Cajun and Creole food may be some of the most diverse and delicious on the planet. So why are these traditional New Orleans' fares so underrepresented in Los Angeles. The Gumbo Pot at the old Farmer's Market on Beverly and now at its new Hollywood & Highland complex locations aims to change that perception.
The Gumbo Pot represents both Cajun and Creole fair, which differ in influence and food focus.
Not to go all Alton Brown here, but the history of these peoples is interesting and provides insight into the origins of their similar, yet different repasts.
In 1632, descendants of French immigrants settled into a French colony called Acadia in the Northeastern part of Canada – basically the area that today includes Nova Scotia, New Brunswick and Prince Edward Island.  These Acadian pioneers were industrious people who mixed their indigenous French recipes with new ingredients found in this new land including rice, crawfish and sassafras (aka file'). Hearty seafood dishes, often made in one big pot and served over rice, helped battle the long winter chills. To this day, standard Cajun fare includes things like jambalaya and crawfish or shrimp etouffée. Cajun cuisine relies heavily on game meats, frequently smoked, like the andouille sausage that is such a staple of their fare.
The Acadians persevered even after the British seized control of the land in the early 1700s. But all that changed in 1754 when the French and Indian War broke out. The British, worried that the Acadians would rebel and fight against them on the side of the French, expelled these folks from Canada, sending them to British colonies all over North America in what was called Le Grand Dérangement (The Great Disturbance).
A few thousand of the displaced knew of a French colony in the southern part of North America and thus fled to Louisiana. Upon settling, the locals begun using a dialectal derivation of the word 'Acadians' shortened to 'Cajuns' to describe these new settlers.
Creole people – who were mostly French and Spanish origins – took the exact opposite route from Europe to get to Louisiana. They travelled through colonized Caribbean states before settling into what was then called French Louisiana in the 1700s.
Creole recipes were developed in New Orleans and are usually more urbane and cross-cultural, including the cuisine traditions not just of the French and Spanish, but also of other European and African countries. Creole dishes are all about the rich sauces like shrimp Creole with its deep brick colored base that's spicier and more complex than a gumbo's traditional roux and grillades (beef chunks simmered delicately in a hearty beef or veal-based stock) and grits.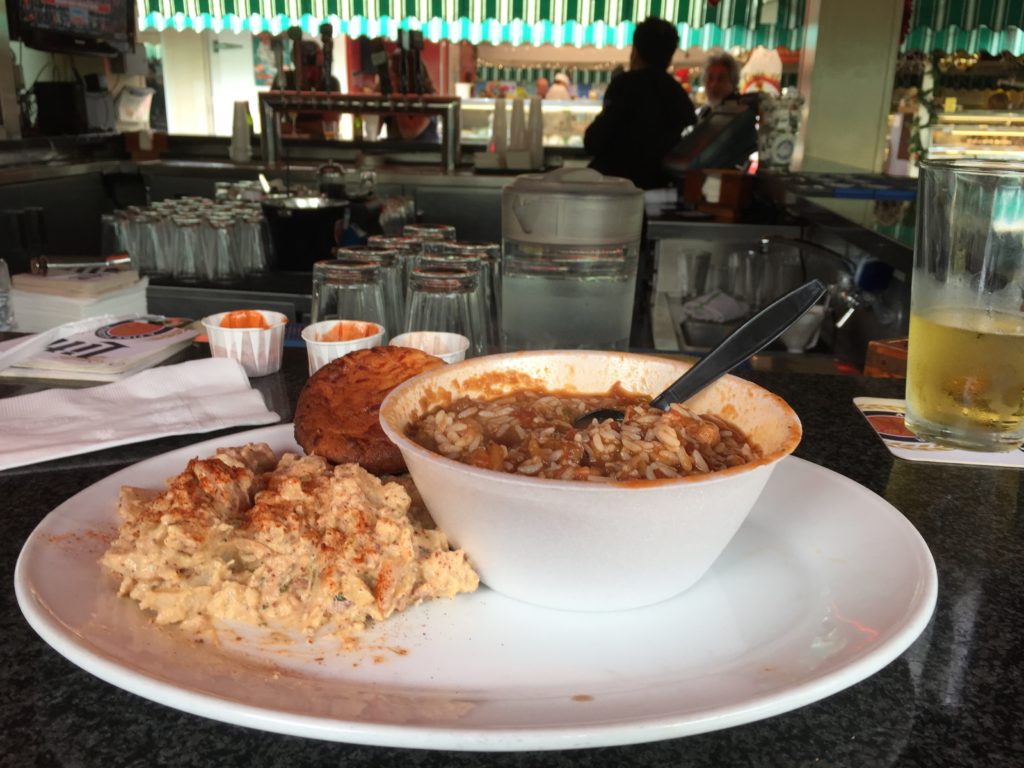 The Gumbo Pot plays no favorites when it comes to classic N'Orleans-inspired dishes served in original Farmers Market since 1986. The stand with outdoor seating only specializes in both Cajun and Creole delicacies that sufficiently transports diners back to Bourbon Street with everything to feed the senses short of a Pat O's Hurricane and the stench of vomit. A second location inside Hollywood & Highlands sprawling complex opened this past December and offers a casual environment for a sit down and prime people watching toward Hollywood Boulevard below.
Dishes can be hit and miss (the salads are just a handful of greens with a basic protein), but if you long for authentic New Orleans cuisine then stick to the classics, and you won't be disappointed.
Their namesake, Gumbo Ya Ya is a classic gumbo chicken stew served bubbling like a tomato tar pit loaded with shrimp and fingernail-sized hunks of sweet andouille sausage. The seafood version swaps additional shrimp, lump crabmeat and okra for the land-based meat and has a thick, briny quality of the Atlantic Ocean. Both are served over fist-sized scoops of fluffy, warm white rich that's more comforting than a set of earplugs at a Zydeco concert.
Traditional jambalaya served over rice suffers from too much flavor – particularly the salty richness of the sausage along with the extra Cajun spices. Fried alligator tail is a gamey treat with a flavor – no, not all like chicken – but rich and sinewy like bold beef jerky with notes of fresh clay. It's terrific if you've had Gator before, but perhaps too authentic for the first timer.
Pan-seared fish platters (catfish, snapper, salmon and soft shell crabs) often suffer from a heavy-handed Cajun spice rub and a blackness that can overwhelm the succulence of the flesh.
All entrees come with homemade, whole-kernel corn bread and a choice of several sides, the best of which is the addictive Creole potato salad: hunks of chopped baby red potatoes bathed in spicy brown mustard and topped with a hint of paprika. Top with a dash of one their many Louisiana hot sauces and that could be the best picnic potato salad of all time.
Sticking with traditional N'Orleans fare, the Gumbo Pot has a dozen different Po' Boy sandwich selections. A Po' Boy is a simple sammy created in the late 1920s by Clovis and Benjamin Martin, former streetcar drivers who opened the Martin Brothers Coffee Shop and Restaurant in the French Market in 1922. When streetcar drivers went on strike in 1929, the brothers took up for their cause and created a simple sandwich of gravy and spare roast beef bits on French bread. The brothers offered this new sandwich free to the striking workers who would be saluted by the kitchen as they came to claim their free fare with cries of, "Here comes another poor boy!" The name stuck to the sandwich, eventually becoming the Po' Boy in common usage.
Today's Po' Boys come with a variety of fillings all encased inside a hunk of French bread the size of a man's forearm served warm and crispy on the outside and pillow soft the deeper you bite. The sandwich is dressed with lettuce, tomato, pickles, mayo and then stuffed with your choice of fried oyster, shrimp, crawfish, catfish, snapper, sausage, crab cake, meatloaf, salmon or chicken. The strips of blackened fish tend to get lost amid the loaf, but the crunchy, then chewy oysters with their bottom-dwelling seaworthiness make the perfect foil to the creamy mayo and crispy veges.
Prices are reasonable ($8-12 for most sandwiches and entrees) and portions are more than satisfying. Cap the meal with those traditional sugar-dusted, fried-dough golf balls called beignets and freebase a hit of jittery chicory café au lait, and you'll feel like you just finished a bender on the stumbling way back to your hotel.
The Gumbo Pot at Farmers Market
6333 West Third Street #312
Los Angeles, California 90036
310-500-5000