For those who have lived and eaten in Los Angeles for any length of time there becomes an honorary rite of passage to seek out the city's most authentic Mexican food. From street-corner vendors to hole-in-the-wall salsa spots with the neon Negro Modelo signs in the window and the seemingly endless showings of futbol from around the world inside, there are no shortages of great southern boarder fare in the City of Angels.
So it makes total sense that high Mexi conglomerations mark the city's gastro landscape as well and none does gourmet salsa like Border Grill in Santa Monica.
I try to dine there once a year, at least, and am never disappointed with the quality and originality of the food. The floor-to-ceiling walls are adorned with colorful, peyote-inspired paintings reminiscent of Frieda Kahlo on a margarita binge.
And speaking of, the margarita list is intoxicating with dozens of specialty drinks alongside a tequila list that must number over 100 even with one closed. Leslie loves the prickly pear marg, a sweet and seductive purple concoction designed, as good drinks are, to conceal the brut force that hides within.
Judging a good Mexican restaurant always starts with the salsa and Border Grill delivers a trio of delicious dippers to accompany the crispy chips. The limey succulence of a tomatillo sauce is divine as is a chipotle-infused creation and another that hints of mashed arbol and tomatoes.
The place is owned by Mary Sue Milliken and Susan Feniger, who've penned several successful recipe books under the nom de plumes, Two Hot Tamales and though I've never tried their tamales (there's Mama's in MacArthur Park for that), the rest of the menu is can't-miss excellence.
Mahi Mahi ceviche is tangy and hearty in an onion-tomato broth. On a warm chip with a drizzle of the aforementioned tomatillo salsa is like a drunken fishy libation served, as it is, in a chilled martini glass.
One of my favorite dishes on earth is cochinta pibil, an achiote-rubbed pork hunk steam-cooked in banana leaves and served with caramelized onions and a hint of orange zest. BG makes a savory version that absolutely melts on the tongue.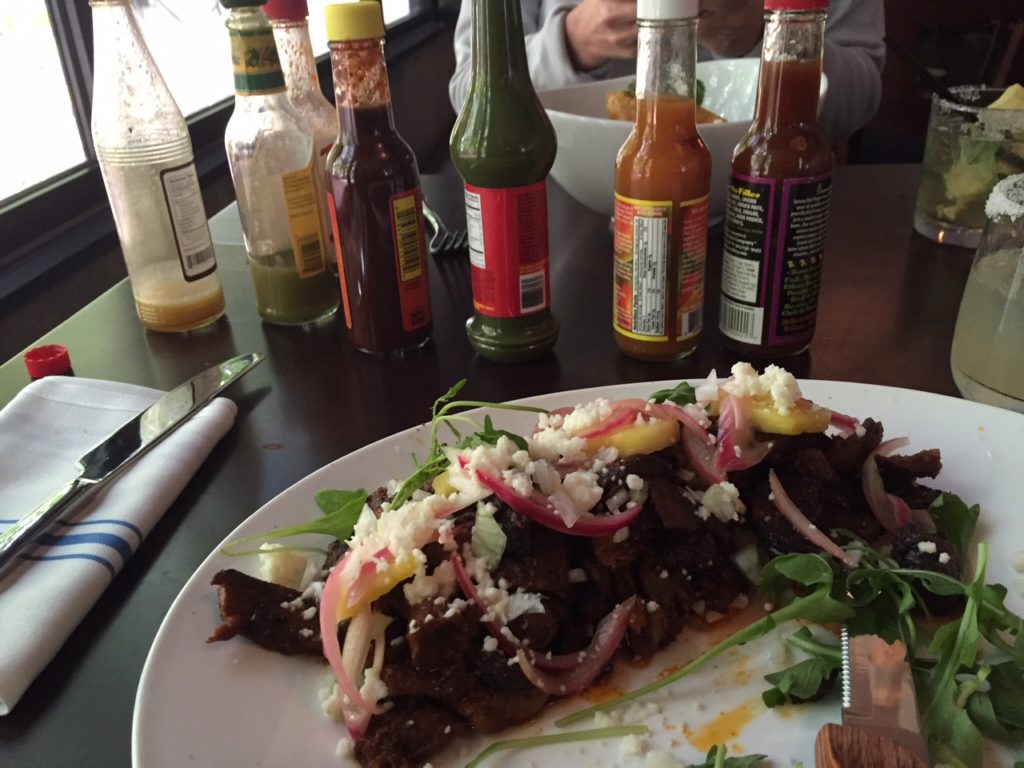 The lamb tacos featuring giant lamb chunks in a rich adobe sauce and wrapped in corn tortillas with diced poblano chilies and a rich manchengo cheese. The broth dribbled down the wrists assuring that the flavorful goodness would be enjoyed later for the licking.
I opted for a pepita (smashed pumpkin seed)-crusted hunk of halibut served over an artichoke mash that – if you like the flavor of choke hearts – was like something silkier and more succulent than any mashed potato dish you've ever had.
The halibut itself was broiled to perfection – crispy with the seed dust on the outside and all flaky tenderness on the inside.
Prices are what you might expect for higher end Mexican but, when one considers that a slab of halibut at Gelson's is $15 bucks a pound, the $13.50 tag for the lunch plate seemed more than reasonable.
If you're going to the tourist swamp that is 3rd Street Promenade in Santa Monica, do yourself a favor and fill up on iron-clad margaritas and face-slapping flavors at Border Grill before braving the sweat-streaked street musicians and balloon-animal bozos beforehand. You'll be a lot less angry in the end.