There are so many amazing food holidays from Thanksgiving to Easter to Xmas. But my favorite is St. Patty's Day to whip up a feast of corned beef and cabbage, and a boat load of veggies like softened carrots and potatoes.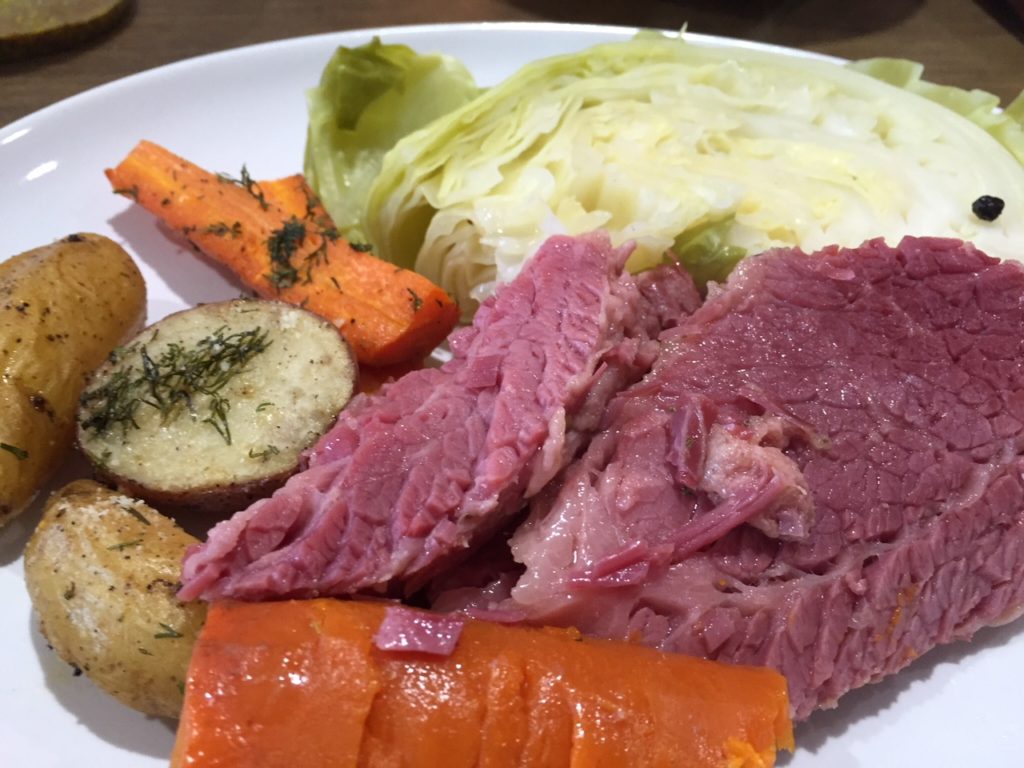 Of course, there are a myriad of ways to cook corned beef, but I've found a fool-proof way to maintain extreme moisture and flavor while saving time by tossing the roast into a pressure cooker. It's easier on clean-up and doesn't waste hours of gas on the stove or electricity in the oven. So let's get our shamrock on for an awesome supper with plenty of leftovers for next day sammies.
 4-lb corned beef brisket
5 carrots, halved and quartered
12 small red potatoes
1 head green cabbage, cut into tight wedges
1 T coriander seeds
1 T mustard seeds
2 bay leafs
1 T peppercorns
Rinse the beef and set fat side up on the basket inside the pressure cooker. Press the spice packet into the meat. Cover the beef with water. Drop the small potatoes and carrot bites around the meat, submerged.
Cover and seal the lid of the cooker. Use the "manual" setting and punch in the cook time for 65 minutes.
The display will show "on" for about 30 minutes until it comes up to temp and then will switch to the 65 minutes read.
When the 65 minutes elapses, the cooker will shut down. Let the steam slowly release by doing nothing for about 30 minutes. At that time, turn the lid valve to "vent" which will release the rest of the steam. When fully subsided, remove the lid and place the beef on the counter, tented with foil for 10 minutes.
When steam is slowly releasing in the cooker with the meat still inside, half fill a large pot with water and bring to a boil on the stove. Toss in the spices and, when boiling, dump in the cabbage chunks. Bring back to a boil, reduce heat to medium and cover. Cook for 20-25 minutes until tender.
All elements should be on the same tender page and still piping hot. Cut the beef against the grain and serve with some sharp, course ground mustard and horseradish.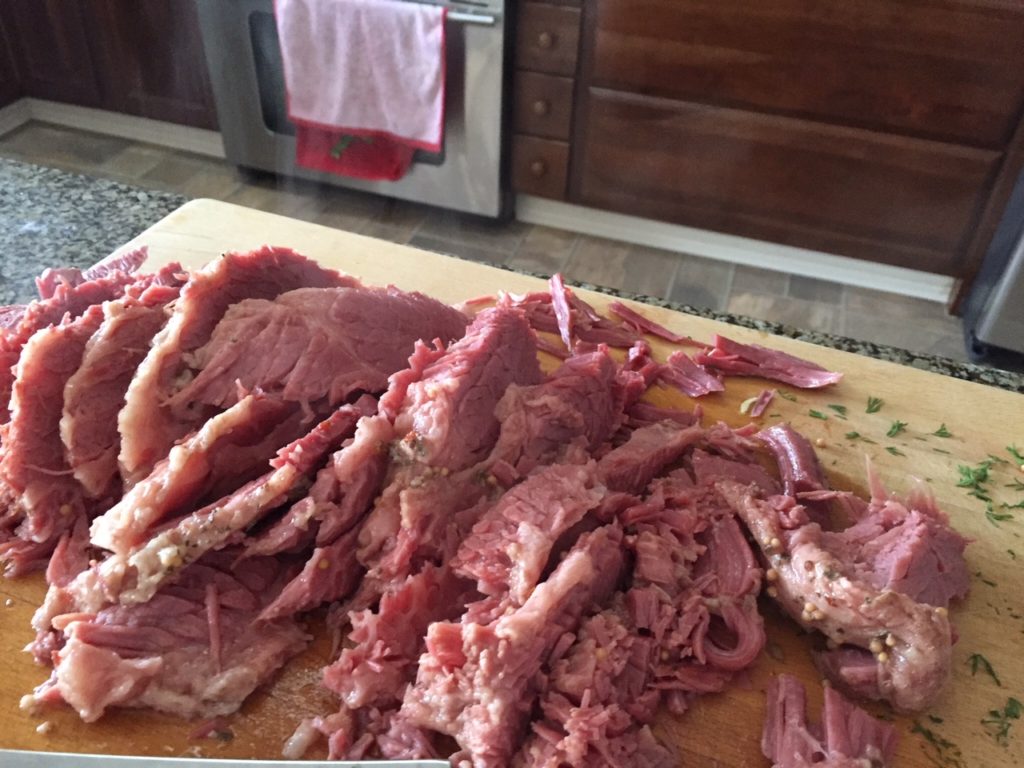 A dash of diced dill on the veggies is also a nice addition that also adds a luck of the Irish green to the presentation.
 Slainte!