Tahini Rockfish & Roasted Brussels
Pity the sad and shy Rockfish as this perch-family fish is so dubbed for its tendency to hide on the ocean floor amidst the camouflaging rocks. While pretty bland on its own a slather of Middle Eastern Tahini paste and a few sprinkles of other goodness makes this fish a rock star of your meal. Tahini is a sesame-based paste and also travels well with some nutty, roasted Brussel sprouts.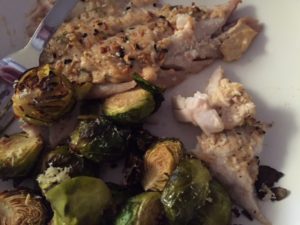 The Fishy Goods
3 Rockfish fillets
1 T plain yogurt
2-3 T tahini
1 t Oregano
1 t smoked paprika
Sprinkles – garlic salt, pepper, zatar (if it's just lyin around)
Glug of olive oil
Sesame seeds to coat
Combine all ingredients except sesame seeds in a bowl and whisk together. Cover one side of the fillets with this groovy paste and top with the sesame seeds. Set a toaster over to broil. Place the fish on a foiled pan – slather side up – and place in the toaster oven. Cook without turning for about 5 minutes as you see the tahini start to turn caramel.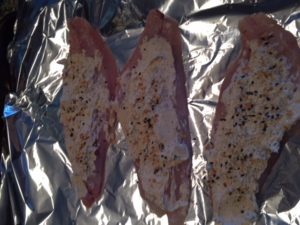 For The Sprouts
Handful of Brussels, washed and halved
Glug of olive oil
Juice of one lemon
Garlic salt
In a bowl, combine all elements and make sure all Brussels are nicely coated. Set the oven to 425 and cook for 25 minutes until the veges appear crisp on the edges.
If making these dishes for the same meal, avoid the toaster over and simply start the Brussels at 425 and after about 20 minutes pop in the Rockfish and after another 5 minutes or so, both should come out for plating at the same time.