Finding the best chicken in Los Angeles has sparked many a great debate among the lip smackers and finger lickers of the city, and the first question should always be: what style? LA, with its great diversity, can argue many good and bad birds that are fried or barbequed, but finding that great illusively perfect rotisserie chicken may be the hardest.
Many might argue – and with good cause – that Zankou Chicken, with its Mediterranean take on rotisserie chicken proves the most flavorful, with their signature side of garlic shmear and warm pita bread, their birds can be a nice, tangy punch to the tongue. The problem is Zankou's consistency. Of the 20-odd times I've had Zankou in the past two years, one out of every three chickens are dry with meat that demands the garlic goo just to get it down.
Here's the best rotisserie fowl I've found so far in the city, a Peruvian powerhouse of flavor called Pollo Del Rey. This place puts all other fire-roasted chicken coops to shame with the most consistently tender, sublimely smoky meat you'll find.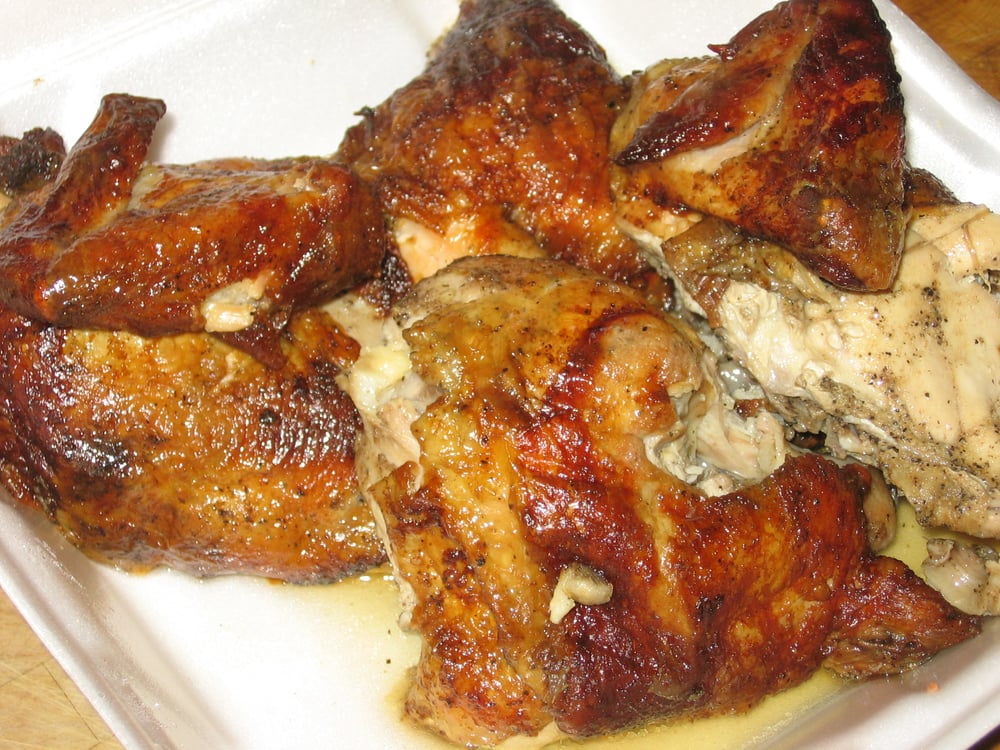 The restaurant existed for many years on Van Nuys Boulevard near the Valley courthouse. Over a year ago, they moved to the corner of Reseda and Chase (between Roscoe and Parthenia, just behind a Burger King) and have now been (re)open for less than four months.
The Peruvian style of fire-roasting the birds is what sets Pollo Del Rey apart. Walk inside this sparse, converted Quiznos, and you're greeted by a glorious waft of woodsy fire. General manager Ricardo Saenz has perfected the art of balancing three types of wood- not wood chips, but actual mini logs – inside a massive brick-layered oven. The oven, tendered and torched for nearly ten years, is like a fine French Oak barrel that has been fire-seasoned to infuse future glasses of wine with a subtle smokiness.
A whole chicken at Pollo Del Rey – the size of a small turkey that will feed two people twice – is $15 with two pint sides (the pinto beans are as big as green grapes and the rice is rich and buttery). The chicken arrives with skin golden and crispy with hints of garlic and sea salt. The meat doesn't just fall off the bones, but makes a suicide leap to the plate with the slightest prick of the fork. Even the double-D white breasts are tender and dripping with clear natural juices in every bite.
Their salsa bar offers intriguing choices to accompany the meal from your standard onion-y pico de gallo to a gloriously garlicky Chimichurri. But the star of the condiments is their very own Peruvian verde sauce called Aji, a holy mixture of things like jalapenos, cilantro, garlic, green onions,  lime and mayo, pulverized to a creamy silkiness that tastes oddly like creamy guacamole with a kick.
Tuck chunks of succulent, dark thigh meat into a warm tortilla, add a few pintos with a blast of Aji and you might as well be sitting on the streets of Peru.
Pollo Del Rey is not fancy by any stretch, and I'm told they serve other dishes like burritos, fajitas and quesadillas, but with chicken this good, they are true to their name's translation as being the "Kings of Chicken."