A healthy and holistic way to sooth the soul and curb your hunger with a quick, easy and delicious mid-week meal. Ground chicken would also work and mixing and matching whatever Far Eastern ingredients are in the pantry makes this a clean palette on which to paint.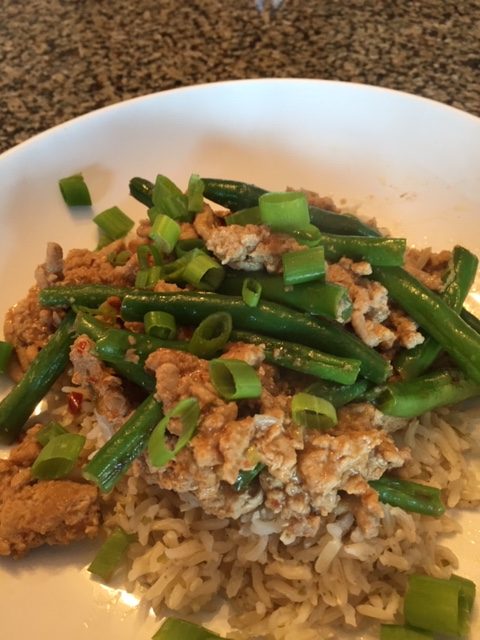 1 lb ground turkey
2 clove garlic, minced
1 knuckle fresh ginger, grated
1 lb green beans
2 scallions, chopped
1/2 C chicken broth
3 T yuzu soy sauce
2 T fermented black bean sauce
2 T (choose) hoisin sauce, oyster sauce, honey
3 T rice wine vinegar
1 T corn starch
1 T Sambal
Drizzle sesame oil and olive oil
1 can water chestnuts (optional)
Brown rice
Let's Go
Par boil the green beans for two minutes, then drain and plunge into an ice bath to stop cooking.
In a bowl, whisk together the chicken broth, corn starch, soy, vinegar, sambal and all other chosen liquid flavors.
Heat a pan on medium with the oils and add the garlic and ginger for a minute. Then toss in the green beans and stir frequently until the beans start to blister.
Now would be a good time to start the brown rice.
Remove the beans, add more sesame oil to the pan and dump in the ground turkey. Season accordingly with chili flakes, yuzu powder…whatever is handy and sounds like fun. Brown the protein, then dump the marinade into the pan and keep stirring. Dump back in the beans and water chestnuts (or baby corn) into the pan.
Saute everything for less than five minutes. Serve over brown rice and top with chopped scallions. Keep the sambal handy for serving and enjoy!