Nothing fritters away the frustrations of the day like the ultimate dynamic duo of an ice-cold martini followed by a sizzling hot steak. That is unless the steak suffers the indignities of a sloppy prep and a poorly rendered side of beef. What should be simple and serene often succumbs to chefs who over-think the process of delivering lean, well-aged beef, seasoned subtly and then prepared to perfection.
So we present a handful of carnivore caverns in LA with a level mooing field of ordering nothing but a simple rib-eye prepared medium-rare each time.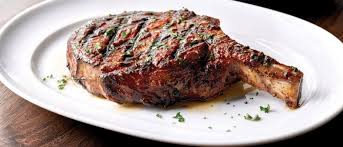 The Rest:
Ruth's Chris (Beverly Hills)
There are two accompaniments that make every meal better and every life shorter:bacon and butter.
Ruth's Chris embraces the latter in a way other steakhouses have emulated without this level of melting success. Take a steak seared to perfection at 1800 degrees and top the beast with fresh butter so that it sizzles all the way to the table.
Simple.
The effect is mouth-watering on impact and, in fact, Ruth's Chris deserves its reputation as one of the finest, most consistent steakhouses in the city. The filet should really be listed under desserts because it is so rich and decadent. On the downside, the martini glasses are a little Napoleanic for my taste.
Grade: B+
Fleming's (Woodland Hills)
Peter Fleming is a highly successful restaurateur whose initials make up the P.F. in P.F. Chang's wildly successful take on Caucasian-inspired Chinese food. His steak house is a similar spot-on concept: dark, romantic interiors and a mile-long wine list and steaks perfectly seasoned. He has 11 locations in California and over 50 nationwide.
Fleming's serves USDA Prime corn-fed beef aged up to four weeks then broiled at 1600 degrees to seal in all the juices and flavor. All the steaks are seasoned with kosher salt and black pepper, and finished with a touch of butter and freshly chopped parsley. The presentation is perfect, but the past two times we've tried the rib eye, there was a ribbon of fat so deep and thick, a chain saw and acetylene torch couldn't break it apart.
The staff was commiserative to our complaints, but they never suggested taking back the bubble-gum beef and prepping a new one. Two strikes and out.
Grade: C
Monty's (Woodland Hills)
This place is decidedly stuck in the 1970s with retro leather-ish booths and a dingy piano tinkling from the bar.
The steak is tough or, on good days, chewy. Best of all, there are surprises in the side dishes not unlike a trinket in the bottom of a box of cereal. On last visit, one of the chef's clear coat buttons had found its way into my rice pilaf. The plastic button was sautéed well enough to have flavor, but I found it to be a little chewy. My dentist felt the same way when he looked at the small chip my tooth the next day.
On the bright side, I did receive a free dessert for the kitchen's error. Well done!
Grade: D
Morton's (Beverly Hills)
Cows think Morton's food has too much salt.
Morton's boasts simply the worst steak of the major chains in the city. The medium-rare meat was nowhere close to pink on the inside and so overloaded, so mind-numbingly packed with salt, that it practically delivered a Slurpee-style headache on impact.
The sides suffered the same sodium heavy-handedness. We sent back a side of hash browns that was the equivalent of eating sand only to get a bunch of broccoli that boasted the same lip-smacking problem. There wasn't enough water in the world to clear the throat.
And this chain's penchant for still showing you what the raw meats and vegetables look like prior to prep is a tradition that should be retired. Wow – who knew a tomato was red and round! Amazing.
Grade: D-
Cut by Wolfgang Puck (Beverly Hills)
Ok, yes…the steaks are pretty amazing. Consider hunks of Illinois corn-fed beasts aged for 21 days and then grilled over wood and charcoal before being finished under a 1200 degree broiler. Meats in multiple shapes and sizes are the palette on which they paint.
The prices are double what you'd normally pay for a cut of beef (at least $50 for one steak), but if you like your beef with a side of paparazzi and a chance of seeing Pitt and Jolie, this is your best bet in the city.
If you just wanna chill, avoid.
Grade: B+
The Best:
Larsen's (Encino)
Sometimes it takes a new cut on the block to learn from other's mistakes and make their own mark. Larsen's has succeeded. Located on Ventura Boulevard in Encino at Woodley, the place feels like a cool jazz bar from decades past brought into the present with a hip wait staff and a fire-pitted outdoor patio.
There's a science to Larsen's take on steak.
Traditional quality steakhouses serve mostly USDA Prime corn-fed beef. A few premier steakhouses dry-age their beef on premises for up to 21 days. Larsen's requires four to six weeks of aging and requires a highly skilled butcher to be at the location at all times to monitor airflow temperature and humidity. During dry aging, the prime meats' natural enzymes act as soothing tenderizers. At the same time, moisture evaporation improves the supple texture and hearty taste of the meat, making it richer and more buttery. Dry aging continues until a thin coating develops on the meat surface. This coating seals in flavor and juice and is later trimmed off.
Furthermore, their diligent method of preparation includes slowly searing the meat in its own natural juices at 500 degrees, rather than blast-cooking it at 1500 plus degrees like most steakeries.
They also excel in service, automatically splitting a Fred Flintstone-approved 32-ounce rib eye, baked potato and Caesar salad without being prompted or charging for the process. Classy.
From the perfectly shaken ice-cold martinis to the softness of the piano to the backlit menus that render a Kindle-like presentation to the ordering process, Larsen's has paid attention to details and created an instant classic in a city's sea of cooked cow.
Always bet on the underdog.
Grade: A
Of course, there were many steak houses not included here (a man, unlike a cow, has only one stomach, after all), but I'd love to know your favorite steak spot. Please drop a comment below on your faves.