Cover feature for Music Connection magazine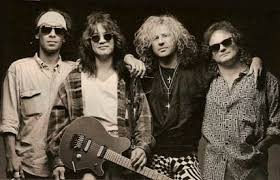 The members of Van Halen and I are sitting in a tiny room adjacent to the 5150 studios where the band recorded its latest effort, For Unlawful Carnal Knowledge. A quick glance around the room reveals what could be every high school kid's fantasy: A couple guitars, custom-built by Eddie Van Halen, rest silently against several of the latest in noisy video-arcade technology. The only sign of adult responsibility is the beeping FAX machine that has the tendency to interrupt conversation at a moment's notice.
In a corner of the room sits a large screen TV on which the band and I watch a rough cut of the video for the album's first single, "Poundcake." The vide treads familiar territory, juxtaposing choreographed live shots of the band over images of back-lit females seductively cupping surgically-engineered torsos. In the room, the boys in the band hoot and holler like school kids in a frat house and, for a moment, I wonder if rock & roll should aspire to things greater than the size of a woman's breast.
Just as I'm about to jump on my feminist high horse and ride bareback through a roomful of rock superstars, Eddie leans over and, almost as if he had read my mind, whispers, "We don't take things too seriously here. We just try to have fun."
Fun? Whattaya think this is, pal, rock & roll? But as the video ends, I consider that, over the span of their eight-album career, Van Halen has amassed a staggering 45 million in combined sales. And as I climb down off my liberal steed, I realize that millions of fans obviously just wanna have fun as well.
For Unlawful Carnal Knowledge, which entered the Billboard charts at Number One, sees a return to the more aggressive guitar-bass-drums approach that Van Halen practically created in 1978 with their eponymous debut. The synthesizers that bogged down their past few releases are gone, replaced by a crisper sound that's been captured brilliantly by producers Andy Johns (the man who engineered Zeppelin's "Stairway to Heaven") and original VH producer Ted Templeman. Templeman's return to the knobs marks the first time he's worked with the band since David Lee Roth's last VH affair, 1984. In fact, Templeman also had a history with Sammy Hagar dating back to two of the Montrose releases and his VOA solo album, so he seemed a logical choice to replace Donn Landee, who produced the last two VH discs.
It would seem that the producer change reflects some dissatisfaction with the lighter sound of 5150 and OU812. "It wasn't a conscious decision," clarifies Eddie's older brother and drummer, Alex. "But we did feel that we got away from the intensity of the past."
Along with some sleight-of-hand riffing, courtesy of guitar magician Eddie Van Halen, the most impressive aspect of the new record is the vocal performance by Hagar. He still doesn't play guitar, because the band simply doesn't require it. But, for the first time since he joined this band two discs ago, his voice sounds less like Sammy Hagar and more like the relaxed, confident frontman that he's always threatened to become.
"If I sound more relaxed, it's because we had more time," the 42-year-old singer explains. "Lyrically, I had the time to pare down passages to fit the rhythm, instead of trying to rush too many words through the music." "This was also the first time we didn't go into the studio with a tour already booked," adds Alex.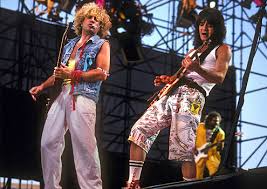 The band enjoyed a three-year sabbatical between OU812 and FUCK (yes, the silly acronyms remain), and were comfortably allowed to rehearse and write new material at their own pace. Although the band doesn't rehearse with any regimentation, they still practices together at least every other day, even after a solid year of touring ("but never in the morning," Hagar is quick to point out).
"We just love to play," the singer shrugs, "and with Eddie having the studio at his house, we can jam anytime we want. We need to play a lot because that's the only way we'll grow as musicians."
In terms of writing new material, what is the Van Halen creative process? "I'm a couch player," Eddie confesses. "I just sit on the sofa, watch TV, turn the sound down and play guitar. Ninety-nine per cent of the time, an idea comes to me when I'm just sittin' there banging away."
"Eddie will usually come in with a riff and Alex and Michael (Anthony, the amiable bassist) will add things to it," interjects Hagar. "Then I'll listen to the music and immediately come up with a title. I don't think there was one song on this album that I didn't have a title for within the first ten minutes I heard it. Then, from there, I'd develop words. Like on 'Poundcake,' the song had such a booming, pounding riff that the word just seemed to fit, whereas 'Pleasure Dome' required a more exotic word pattern."
"But the process is not always the same," Clarifies Alex, as Eddie checks an incoming FAX. "Sometimes Eddie will come in with a song completed; sometimes Ed and Sammy will just sit on the beach and write a song, like 'Finish What You Started'; sometimes Ed just has something weird, kind of an idea, that we help develop from there."
Call it a successful anti-formula. Despite the many changes VH has witnessed in the music industry over the span of their 15-year career, the band has remained true to its origins. Other than their over-publicized lead singer fiasco, VH has remained intact. Alex best sums up the key to Van Halen's longevity when he says, "I hope this doesn't sound pompous, but since we began, we really haven't changed that much as human beings."
As the rest of the band moves into the main room of the studio to record some radio spots, Eddie remains. After we light communal cigarettes, the 31-year-old guitarist reflects on his childhood in Holland and his family's subsequent move to California.
By the time he was eight, Eddie had become a piano virtuoso, taking lessons with money his parents earned washing dishes and cleaning houses. "I would practice one piece of music for a year and then go down to Long Beach City College and play that piece," he recalls with a youthful grin. "I won first prize in my category three years in a row. But I didn't want to do that. I hated (playing piano) because I had to play what was in the book. There was no room for me to pound on the thing or do whatever I wanted."
As the ultimate form of musical rebellion, the future guitar virtuoso ironically traded in his piano for, get this, the drums. "I bought my first drum set when I was 11 for $125, with money I had earned on a paper route," he laughs. "Now at the same time, Al also gave up the piano, and my mom got him into flamenco guitar lessons. So I was playing drums and he was playing guitar. But, while I was out throwing papers, Al was home playing my drums, and playing them better than me. So I said, 'Fuck you! I'll take your fucking guitar!' And that's how it happened."
Now on the strings, Eddie was able to experiment with a freedom the piano never allowed. "I just picked the thing up and started dicken around," he explains of his unusual technique. "I think half the reason I do the strange shit on guitar that I do, like playin' on the neck, is because I was never taught. I think if you're taught by a book that was written many years ago, then the shit I do wouldn't even exist in there."
What of the many pretenders to the Eddie Van Halen throne who've copped his patented moves over the years? "They say copying is the highest form of flattery," he grins, "but at the same time the (elaborate moves) are part of the way I play. Other people use it like, 'Hey, watch me do this trick now.' When I play with both hands on the fingerboard, I'm not conscious of it at all. It's natural to me."
In a town where you can't walk a street of Hollywood without bumping into either a homeless person or a musician, what advice would Eddie offer other aspiring guitar heroes?
"You've got to go by what you feel. Bottom line: You gotta enjoy what you're doing. Nowadays, I think a lot of kids – they got the hairdo, they got the clothes and they want to be a 'star.' But the guitar and the music are secondary.
"I'm not cartooning on those people," he qualifies. "If that's their thing, that's fine. But I didn't come from that school. I never wanted to be a 'rock star.' I wanted to be a musician. I would stay home on the weekends while all my friends went out a partied. I would just sit on the edge of my bed, drink a couple beers and just play, and lose myself in playing. I really got off on it."
So how did the folks feel when he gave up classical piano for rock guitar? "Oh, my mom hated it," he chortles. "She always felt you needed something to fall back on. But I felt you either had to go for it or not do it at all. You can't half-ass it."
So what does mom say now?
"When are you going to get a real job?" he deadpans.
Still?
"Oh yeah. I mean, she's proud. But I'll never forget when we got signed to Warner Brothers, I said, 'See ma, I told you we'd get a record deal.' And she said, 'Yeah, but how long will it last?' "