This relatively simply salad can be whipped together for a fresh and super healthy mid-week meal. The salad has a nice balance of tang from the dressing, spice from the arugula blend and crunch from the almonds and ramen.
Tuna cooking times will always vary depending on how much or little rareness you like inside. We like it pure, flamingo pink with just a slight char on the outside. So timing for us is 2 minutes preside in a medium-to-high (un-oiled) skillet.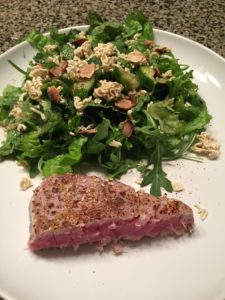 The Dressing
Combine the following in a small jar with a tight lid for shaking well.
¼ C rice vinegar
1 T yuzu soy sauce (or regular soy)
1 lime, juiced
1 good inch of grated ginger
1 t Dijon mustard
1 T (or small handful) chopped cilantro
½ C olive oil
The Salad
Depending on portions, mix the following to your desire in a salad bowl
Arugula handfuls
Red Leaf lettuce, chopped
2 scallions, chopped
Handful of slivered almonds, toasted until slightly brown, reserve to top after dressing the salad
Uncooked Ramen crushed into small, crunchy clusters. Also reserve to top after dressing
The Tuna
 Let the steaks come to room temp
Scatter sesame seeds on a plate
Lightly oil the fish and twist salt and pepper onto both sides
Press each side of the fish onto the scattered sesame seeds so they stick
Heat a dry pan (no oil or spray) over high heat until hot. About 5 minutes.
Drop the steaks into the pan and don't touch for 1 1/2 minutes.
Flip, 1 1/2 more minutes and immediately remove to a plate.
Now drizzle you dressing over the salad, top with almonds and Ramen, and serve tuna on the side. Good and even better for you!