A chilling summer dish that offers both sweet and savory flavors. Guaranteed no two bites are alike and absolutely none will disappoint.
Primary Ingredients
4 boneless pork chops (about 1/4 to 1.2 inch thick. Cut in half down the middle)
1/2 package rice or vermicelli noodles
Marinade for pork
2T shallot, minced
1T garlic, minced
1/4 C brown sugar
1T fish sauce
1/2T (thick) soy sauce
Pinch of frozen lemongrass
3T canola oil
Black pepper
Combine all elements then drizzle over pork chops in a bag. You may want to cut chops in half to make sure more flavor gets all over the meat.
About a half hour before serving time, cook the noodles according to the package. You don't want them hot, but cooled when you serve. So make them ahead of time and let them sit in a colander until ready to serve.
Veges in the bowl
Red leaf lettuce, torn
1 cucumber, sliced
pickled carrots and daikon (The day before, chop carrots and daikon into thin strips. Mix enough white, distilled vinegar to cover the veges in a tupperware with 1/4C kosher salt and 1/3C sugar. Then pour over veges and let sit at least overnight in the fridge.)
2 scallions, chopped
handful bean sprouts
fresh mint, lightly chopped
Fresh basil, lightly chopped
Fresh cilantro, lightly chopped
1 Fresh lime, quartered
You can either bake or grill the pork
To Bake
Place pork on a foil-lined baking tray. Heat over to 375 and cook for 15 minutes, flipping once. Now turn the oven to broil and continue cooking, keeping a close eye and flipping once to make sure you don't overcook.
To Grill
Place the chops over direct heat for about 2 minutes per side. You want the outside slightly charred, but don't want to overcook the inside and make the meat chewy.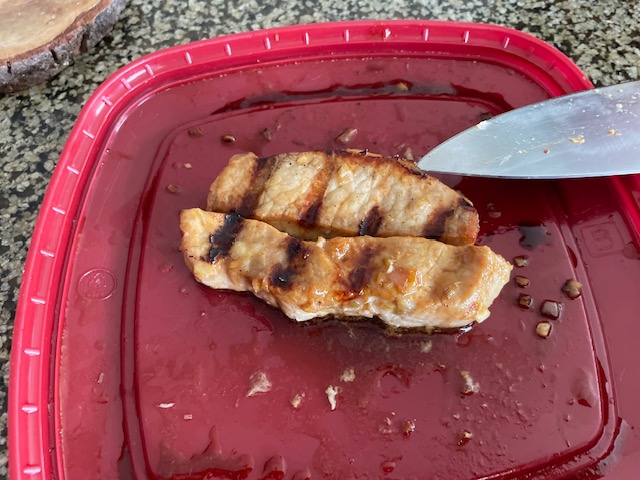 Drizzle sauce
6T water
2T sugar
3T fresh lime juice
2T fish sauce
1/2 serrano chili, finely sliced
Combine water and sugar in a bowl and stir until dissolved. Add rest of ingredients and stir to combine. Set aside for drizzling on the final bowl.
Place all the veges in their own lanes in large serving bowls. Cluster noodles in one open space. Cut pork off the grill into fork-sized pieces and place them in the bowl.
Serve with drizzle sauce and fresh limes. Squirts of Sirracha or Sambal kick it an even higher heat notch, if need be.