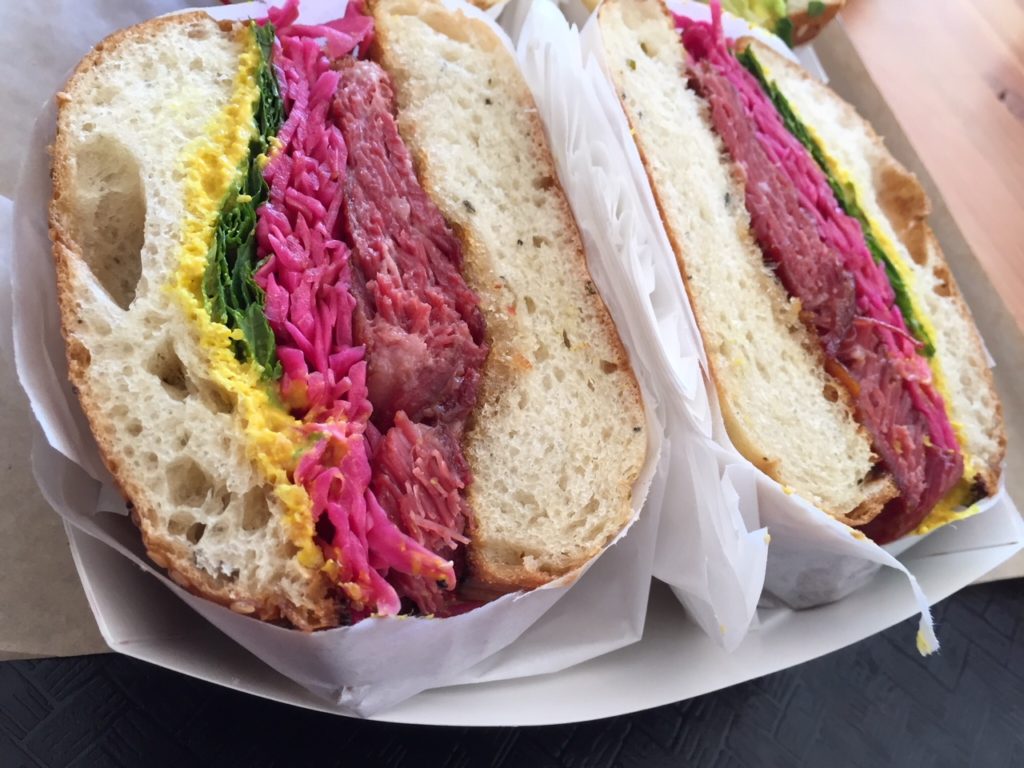 Think of great pastrami sandwiches in Los Angeles and inevitably Langer's Deli pops to mind. The only problem is that Langer's pastrami sandwiches are not great, hell, they're not even good. Sloppy, mayo-drenched cow patties with a load of slaw and butter-greasy rye bread prove about as tasty as a wad of wet sports section from yesterday's LA Times.
A better bet – far better – for authentic, Texas-style pastrami sandwiches requires a drive toward Pasadena into the sleepy beak of Eagle Rock for that is where The Oinkster stinks up a small town with delicious, slow-roasted pastrami sammies.
The House Cured Pastrami sandwich at $8 is one of the better pastrami sandwiches for everything it isn't – it isn't about toppings or spreads or cheeses or any flavor that takes away from the A-list star: the smoked meat itself.
Oinkster owner and chef Andre Guerrero (formerly of MAX and Senor Fred's in the Valley) cures his pastrami for two weeks, rubs it with spices so secret he'd have to force you to eat at Langer's if he told you what they were and then smokes the slabs over sweet apple wood.
The result is pastrami as close to bacon you might ever find. Smoky, lean and crispy on the edgeswhile visually viscous toward the bright-pink center, it is the perfect bite all cows wish they could die for. There's refreshing little fat on Oinkster's pastrami and when shoved inside a pillow-soft French roll the size of a nerf football that's all you need to construct the perfect sandwich.
Oinkster smartly allows you to choose a condiment – from rich garlic aioli to, my favorite, the homemade cracked peppercorn mustard.
Now if you're feeling too high brow for the delicacy of such a simple sandwich, you can choose from the Oinkster's version of a hot Reuben or their self-named Oinkster Pastrami with gruyere cheese, caramelized onion and red cabbage slaw which both do a disservice to their pure pleasure of the brisket bites.
Feeling more like a pig, try the Pulled Pork Barbequed Sandwich. The pork is brined with soy and honey, slowly roasted and then smoked. The pig ribbons are served with pickled red cabbage slaw, subtle caramelized onions and vinegar-rich Carolina BBQ sauce for an au jus bath in every bite.
For those on a diet there are several salads that beg the question…why are you here?
The burgers seem a bit on the wee side and overly fussy with Father's Office-type toppings. The roasted chicken, however, is a better alternative which also benefits from the apple wood slow smoking procedure. In fact, the restaurant's catch phrase is "fast food cooked slow." (We'll forgive the adverbially challenged phrase-maker.)
No matter what you order, a side of Belgian fries is mandatory. The fries are as thick as 10-year-old's pinky and made from hand cut, twice fried, fresh Kennebec potatoes (which are sweeter strain than your average russet). The perfect, golden crispy skin gives way to a down comforter of spudliciousness made even better when dressed up for the prom with homemade chipotle ketchup. Again you can cover the freedom fries with chili, onions, cheese and all that other nonsense, but keep it simple and the just rewards will be a happy mouth.
The Oinkster serves wine and several craft beers on tap and in bottles, many from local favorites Craftsman Brewing or the Eagle Rock Brewery. Happy hour, in fact, is 3-6pm Monday through Friday. But at this indoor-outdoor, former fast-food setting, you won't want to linger as the smoky sensations beckon from every nearby table.
Sometimes we forget how simply good quality meat on a fresh-baked bun can be. Let Langer's chew on that.