Larb is the unofficial dish of the Laos portion of Thailand. It is a sweet, tangy and savory meat salad dish that is often made with ground pork. I like to make the dish a little healthier with ground chicken or turkey which delivers the same sweet and savory profiles over a bed of lettuce.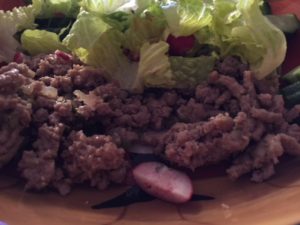 Ingredients
1 pound ground turkey
1 Serrano chili, finely diced
1 shallot, diced
1 stalk lemongrass, peeled to its core and diced
Bibb or romaine lettuce, chopped
1 cucumber, sliced into circles
Marinade
Juice of 2 limes
1/2 C Vietnamese fish sauce
1 T sugar
Handful of fresh mint, chopped (reserve half for sauce and half for topping at the end)
1 T sambal
2 T ground rice powder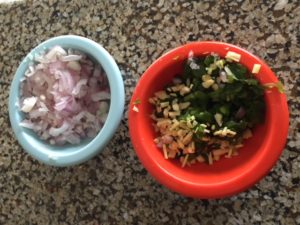 Mix the marinade ingredients into a bowl and set aside.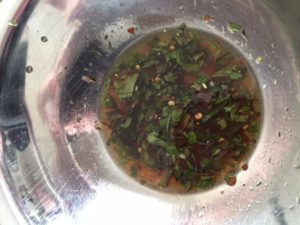 Put white or preferably brown rice into a dry hot pan and brown until color renders and the rice smells like popcorn. About 5 minutes. Remove rice and place into a spice mixer or mortal & pestal and whizz into a fine powder.
Chop lettuce into fork-sized bites and plate with cuke circles.
Heat oil in a pan until medium hot and add shallot, followed by lemongrass and chili a couple minutes later. Once softened, add the ground protein and stir to combine flavors.
Once the protein is mostly cooked through, add the marinade sauce and rice powder and stir to incorporate. About 3-4 minutes.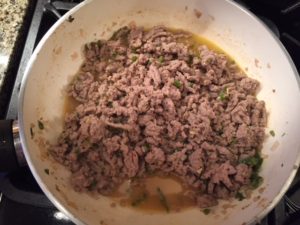 Plate the Larb next to the chopped lettuce. Top with the remaining freshly chopped mint and have dollops of Sambal sauce nearby. Oh, and leftovers are even better the next days as the flavors continue to meld throughout the night.