Chicken Adobo
Mention the dish "chicken adobo" and most people assume it's an authentic Mexican or Spanish classic. In fact, it's a Filipino specialty that's as easy to make as it is to eat. The word itself translates into "marinade" and is, in fact of Spanish origin in the word "adobar" which means "to marinate". When the Spanish colonized the Philippines in the late 16th century, they introduced the indigenous folks to this cooking method who incorporated locals ingredients like soy, vinegar and fruit to create a unique island delicacy.
The key is marinating the chicken in a couple cabinet favorites for maybe an hour and then get to the cooking. Start the rice at about the same time as you start the adobo cooking process and all should come up at the same time.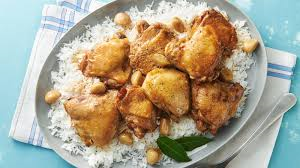 Stuff
4-6 boneless, skinless chicken thighs
1 onion, chopped
2 cloves garlic, minced
½ C chicken broth
2-4 T of soy sauce (yuzu-infused preferred)
¼ C white wine vinegar
¼ C fresh orange juice and its zest
½ C cilantro, lightly chopped
Chopped pineapple chunk (totally optional)
Steamed rice
Combine the broth, soy, vinegar and orange juice/zest in a square Tupperware bowl. Dust with a little salt and pepper. Marinate the chicken in said mixture for about an hour.
Heat oil in a skillet and cook the chicken until browned on both sides…about 10 minutes with one flip.
Remove the thighs. Add the garlic and onions until they start to soften. Dump in the margination mixture from the Tupperware. (If using pineapple, now's the time to add those chunks.)
While that gets to a boil, cut the chicken into fork-sized chunks. Dump the chicken bites back into the pan, reduce heat and simmer for about 6 minutes to where the chicken looks perfectly cooked through. Wait too long and it will start to dry out. You don't want that.
And that's it. Ladle the dish over some hot, steamy rice. Top with cilantro and enjoy a taste of the Philippines. Pigeon peas on the side make for a nice veggie that can also be dredged in the liquid flavor.