Favre's Shovel Buries Dying Hawks: Green Bay vs. Seattle, 2007 NFC Divisional Playoff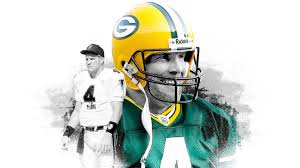 In his future Hall of Fame career, Brett Favre threw for 71,838 yards and 508 touchdowns, and it's a fair guess most of those yards were thrown overhand.
But on a cold and blustery white-out day in January 2008, Favre unspooled a snowball's-chance-in-hell of being completed toss that proved the play of the game.
The game between the Packers and Seattle Seahawks was built on epic storylines: The return of former Packer coaching great Mike Holmgren as leader on the opposite sideline for Seattle versus Mike McCarthy in his first playoff game as Green Bay's head coach. There was the ongoing reports of this being Favre's final rodeo as the 38-yyear-old was just beginning what would become an annual offseason charade of will-he-or-won't-he retire. Yes, in 2007 that game was still new. There was Favre's opposing QB and one-time student, Matt Hasselbeck who was drafted by Green Bay in 1999 and learned under Favre's leadership before leaving for Seattle inn 2001.
The game started out sending chills down the spines of freezing Packers fans. Ryan Grant, who had assumed the reigns of the starting running back chores in only the final seven regular season games and still nearly rushed for 1000 yards.  Grant lost only one fumble during the regular tilt, but in this game muffed two in the first game and both led to Seahwaks touchdowns.
It was 14-0 Seattle before the Lambeau benches had thawed.
"I've been hoping for that for 17 years," Favre said. "I was watching the weather all day and it's a shame, I'm like, 'Just give us one of those big snow games.'
"I wanted to play where you couldn't see the field, and the snowplow comes out. It keeps getting worse and worse," he said.
But as the snow began to fall with greater fervor, the Packers picked up their game. The team scored three unanswered touchdowns, but a Seahawk field goal cut the Green Bay lead to just 21-17 as time wound down toward the half.
With 7:12 remaining in the quarter, the Packers started on their own 30-yard-line. During the ensuing 14-play drive, Favre completed two incredible first-down passes on third-and-seven to Gregg Jennings and third-and-six to James Jones to keep the drive alive. But after Grant ran the ball to Seattle's 14-yard-line it appeared the drive would stall and result in a field-goal attempt.
It was third-and-eight. The snow was pummeling the field making visibility hardly more than a few yards in front of the players' faces. The two-minute warning had come and gone and time was running out.
The backfield emptied. A pass seemed imminent. Tight end Donald Lee shifted from his stance at the line into protection to the right of Favre as the quarterback dropped back. Soaked and tired bodies slipped and sputtered and flopped like dying fish at the line of scrimmage. Seattle lineman Brandon Mebane and Craig Terrill among others bullied behind the Green Bay fortress pressuring Favre out of the pocket to his right.
His cleats like skates on the ice, the Packers' quarterback nearly fell twice, but escaped the pressure to his right. As Favre pinballed off the rushing giants and the frozen turf, he spied his previous blocking helper, Lee, who had scurried downfield. Favre underhanded a shovel pass that started low with his hand full of pigskin in Mississippi and ended with his bare pumping fist in Wisconsin as the ball fluttered like a dying Seahwak toward Lee, who caught and cradled the ball for 11 yards down to the three.
First down.
Even the network announcers were in awe. "How does a 38-year-old man do that?" asked Kenny Albert.
Responded his color partner Daryl Johnston: "I don't know how a 28-year-old man could do that."
Favre was his usually laconic self after the game and re-living that play. "I just gave him the old, usual, underhand toss. We practice that play all the time," Favre cracked. "Boy, what a backbreaker."
On the very next play, Grant pounded the ball in for the touchdown. Instead of maybe a field goal and only a seven-point lead, The Packers now led 28-17. They never looked back.
The 38-year-old kid quarterback had taken a page from his boyhood backyard games of true football improve and come up with a beast that became a beauty.
After the half, the snowballs Favre playfully hurled at Donald Driver turned to an avalanche for the unlucky Seahawks whose wings were clipped so thoroughly that the Packers amassed a franchise playoff record for points en route to the 42-20 victory. Holmgren was beaten in his old house. McCarthy earned his first playoff victory as Packers coach. Ryan Grant, after a horrendous beginning to his Packers playoff career with two lost fumbles, set a team post-season rushing record with 201 yards on the ground. And Favre lived to fight, and sadly lose, a week later in the NFC Championship game against the New York Giants.
But on this frigid night, a brilliant shovel pass helped put the game in the annals of Green Bay lore.